Looking ahead at 2022 with CEO, Rob Forsythe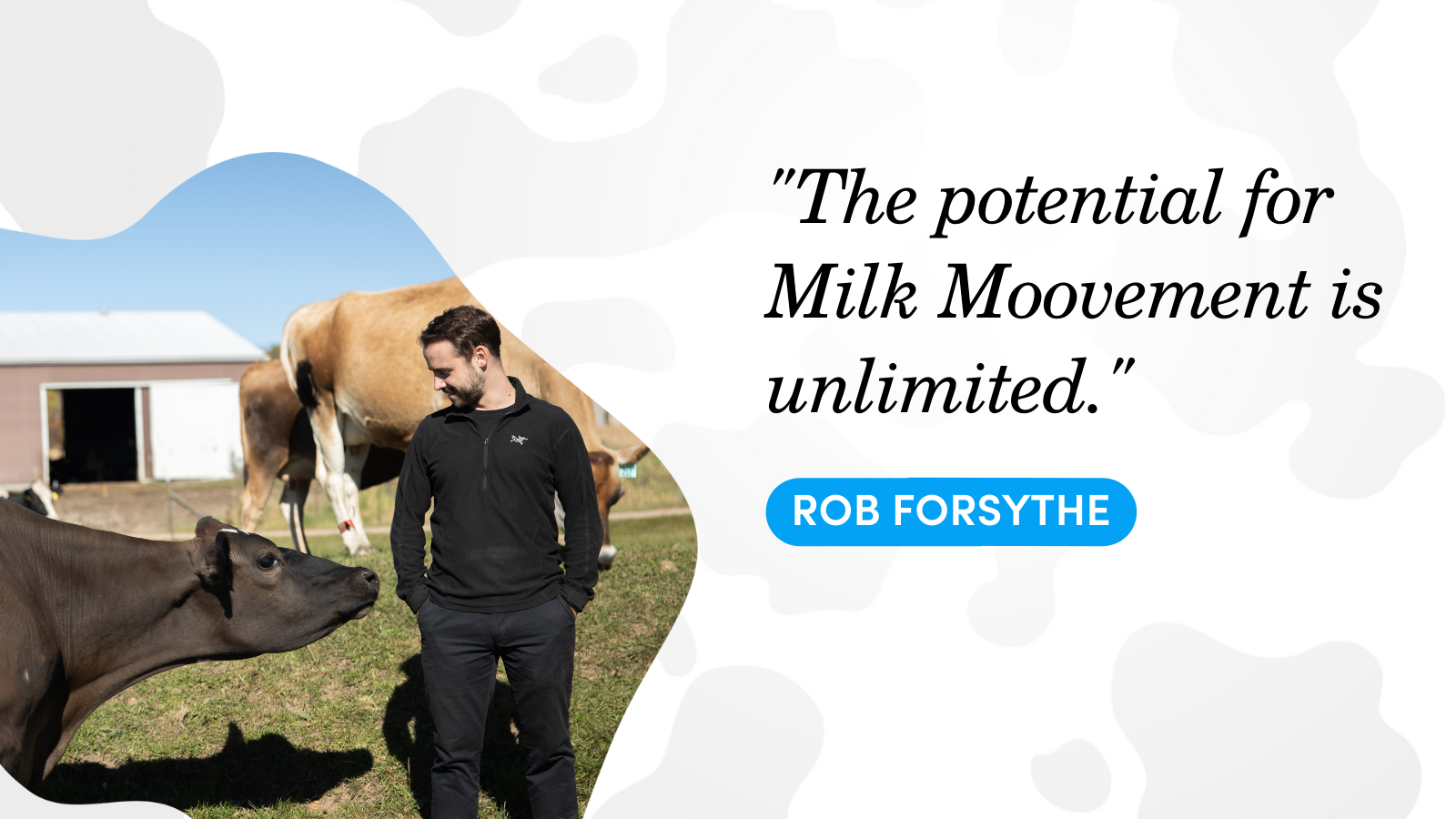 We're halfway through the first quarter of 2022, and you butter believe that we're moo-ving at full steam ahead. That's why I took a moment to sit down with Rob Forsythe, our CEO and co-founder.
With
new customers onboarding
,
investment announcements
, and a head count rapidly approaching 50, that's just the tip of the iceberg. I wanted to hear from Rob about the biggest lessons learned over this past year, and what we can expect to come.
So Rob, 2021 was a big year for Milk Moovement. What are you most proud of?
We've seen growth this past year unlike anything I've ever seen. I must say that I'm most proud of my team that closed 2021 with almost 30 billion pounds of milk being managed through the system! Achieving this took incredible efforts from everyone across the company - from Sales and Marketing to Engineering to Customer Success. Looking back at that achievement, I can say that we are certainly building something special.
What challenges did you face and how do you plan on dealing with that moving forward?
Our biggest challenge to date has been awareness. We know, and we consistently hear from clients, that our system is a game-changer for the industry. But, in the past, not enough people have known about us. I'm happy to share that this is changing with our business development efforts, but we still need people spreading the word that there is a better way to manage your dairy supply chain!
Speaking
of business development efforts, you've already been travelling to a couple of industry events. How have those gone?
There's really no conference like a dairy conference. It feels like one big family reunion. In a largely virtual world, it has been so great to spend time in person reconnecting with clients and industry partners and meeting new industry leaders as well. We'll also be at many more conferences in 2022 like the
2022 Cheese Expo
and
ADPI in Chicago,
so please
reach out
if you'd like to meet (or get a pair of our infamous cow print socks)!
The team has also grown & continues to do so. What are you doing to ensure you're bringing in top talent?
The baseline for attracting top talent is building a place that people want to work. We believe people should be compensated for their thoughts and ideas not for their location or hours at a desk. So building a remote-first organization enables us to find the best talent wherever they are in the world. Our team is already working across five time zones!
Adding to that, the potential for Milk Moovement is unlimited. We have the opportunity to become the market leader in dairy technology and the people that join us have a passion for seeing that growth through.
What are you most looking forward to in 2022?
I love splitting my time between working alongside the Milk Moovement team and being on site with clients. We send a crew out to every new client onboarding to ensure everything goes smoothly and to show our clients we are partners, not just software providers. Fortunately, we have many new client on-boardings booked for 2022, so I'll get to spend much of my year with both clients and team members tackling exciting new challenges. I'm really very grateful to get to spend my time building relationships and building this company, and I'm sure that we're only getting started.