A chat with David Riggs, Milk Moovement's COO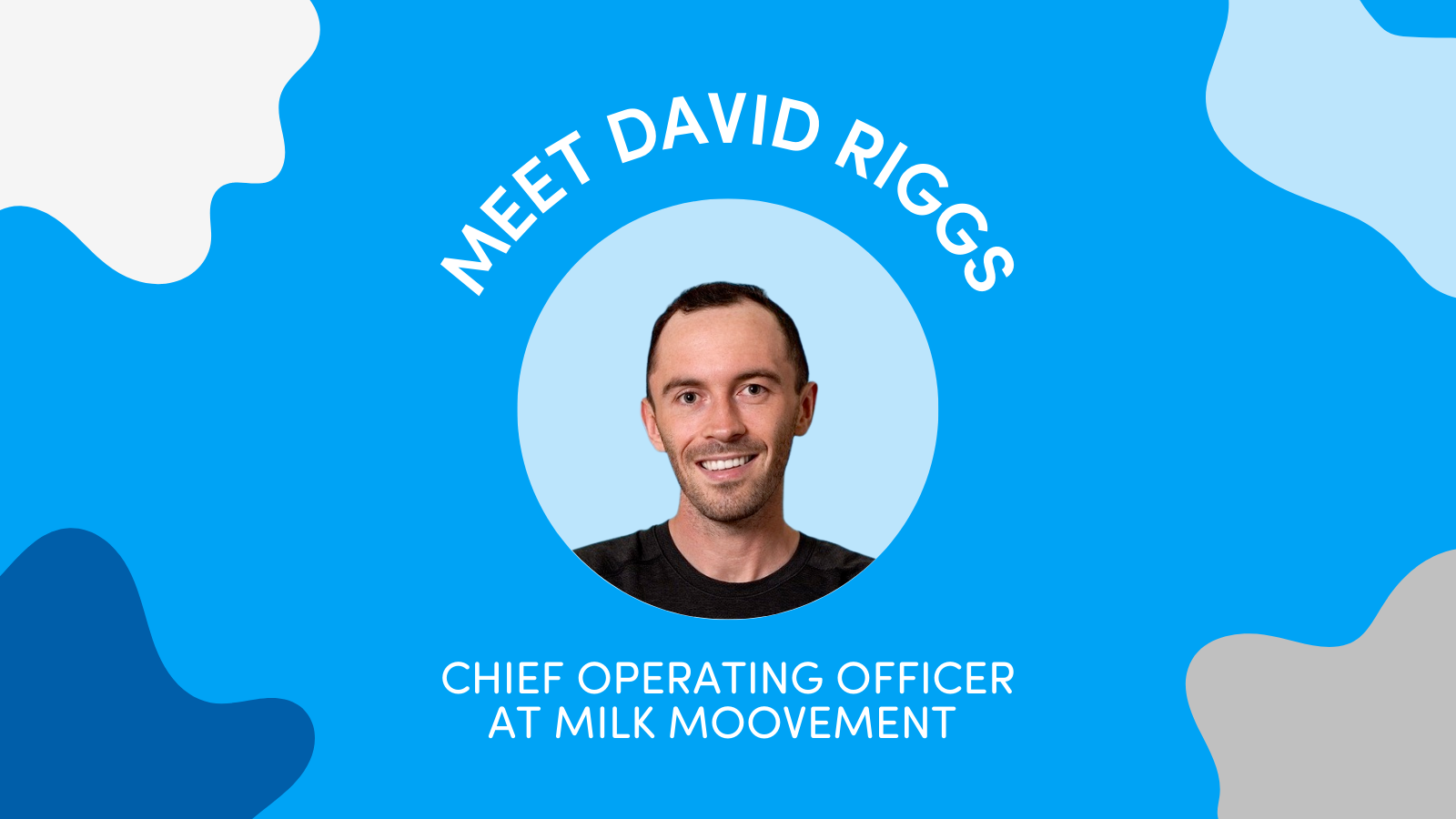 Tell us about your new role.
I am currently the Chief Operating Officer at Milk Moovement. My responsibilities primarily include Talent and Culture, Finance, and Strategy.
With talent and culture, we focus on attracting, retaining, and developing top talent. We ensure that all the teams have what they need to be successful. We also ensure that people feel safe and comfortable to bring their whole selves to work. Ultimately, we are a software company, so our expenses are primarily talent related. We need to ensure we hire great people, they have what they need to do their job, and we provide them ample opportunities to develop their skillset.
With finance, we are just beginning to build out the team, and are currently hiring for our first position. We are responsible for the financial health and growth of the organization. We manage deliverables such as financial reporting, financial planning and analysis, and strategic initiatives.
You've been with the company now for just over two years. What caught your eye about the company? What keeps you going now?
Prior to joining Milk Moovement, I had spent five years in banking. When I left banking in 2020, my plan was to backpack for a year and then complete my MBA, with the idea that I would ultimately end up in consulting. What attracted me to consulting was the ability to help large organizations solve complex problems.
My backpacking trip was cut short by COVID when Justing Trudeau made his 'if you are abroad, it is time for you to come home' speech. I had nine months before my MBA program started and heard about a neat startup in Newfoundland focused on dairy supply chains where I could acquire a unique experience prior to beginning my MBA. I joined the herd for a six-month term and have not left yet! I realized that I could do the case studies in a classroom and learn how to tackle some big complex organizational challenges or do it in real life here at Milk Moovement. I realized in my time with the herd that everyone works towards a common goal and is focused on disrupting dairy supply chains. That makes for a great culture.
You have already done some recruiting in the earlier days at Milk Moovement, and now that's a part of your role. Was that attractive to you coming into this role?
One of the first managers I had early in my career was a fantastic people manager. They helped me understand what it meant to lead with empathy. What I try to take forward from that is that people will never forget how you make them feel, how you treat them, and how you support them in their careers.
Transparently as a 20-year-old, what that manager said at the time did not mean a lot to me. Now, at Milk Moovement, I was now responsible for building teams. What I realized, as an individual contributor, you can move the needle. As a team, that growth is exponential.
What do you want incoming talent to know about the future of Milk Moovement coming in?
There are a lot of exciting projects in flight for them to come on and start contributing to. However, during the recruitment process, we look to understand more about the candidate.
We hire people to be themselves. We are not looking to bring you in and tell you how to operate. We look for candidates to come in, be themselves, and contribute in their own unique ways.
Additionally, this is an exciting time to be in the dairy industry. It is an industry that Milk Moovement is digitizing, optimizing, and disrupting in real-time. Part of the fun is we are solving some of the dairy supply chain's most complex challenges. It is not often you have an opportunity to make that big of an impact in your career. However, at Milk Moovement, we are building the future dairy supply chains today.
Finally, you've done many dairy product reviews internally for the team at Milk Moovement, all of them 5 stars I believe. But which one is your favorite?
I am a sucker for eggnog. It reminds me of growing up in Newfoundland around the holidays. It was always this symbol of Christmas time at home. It puts me in a place in time, home with family, with people I love.