Get to know Zach, Milk Moovement's VP of People and Talent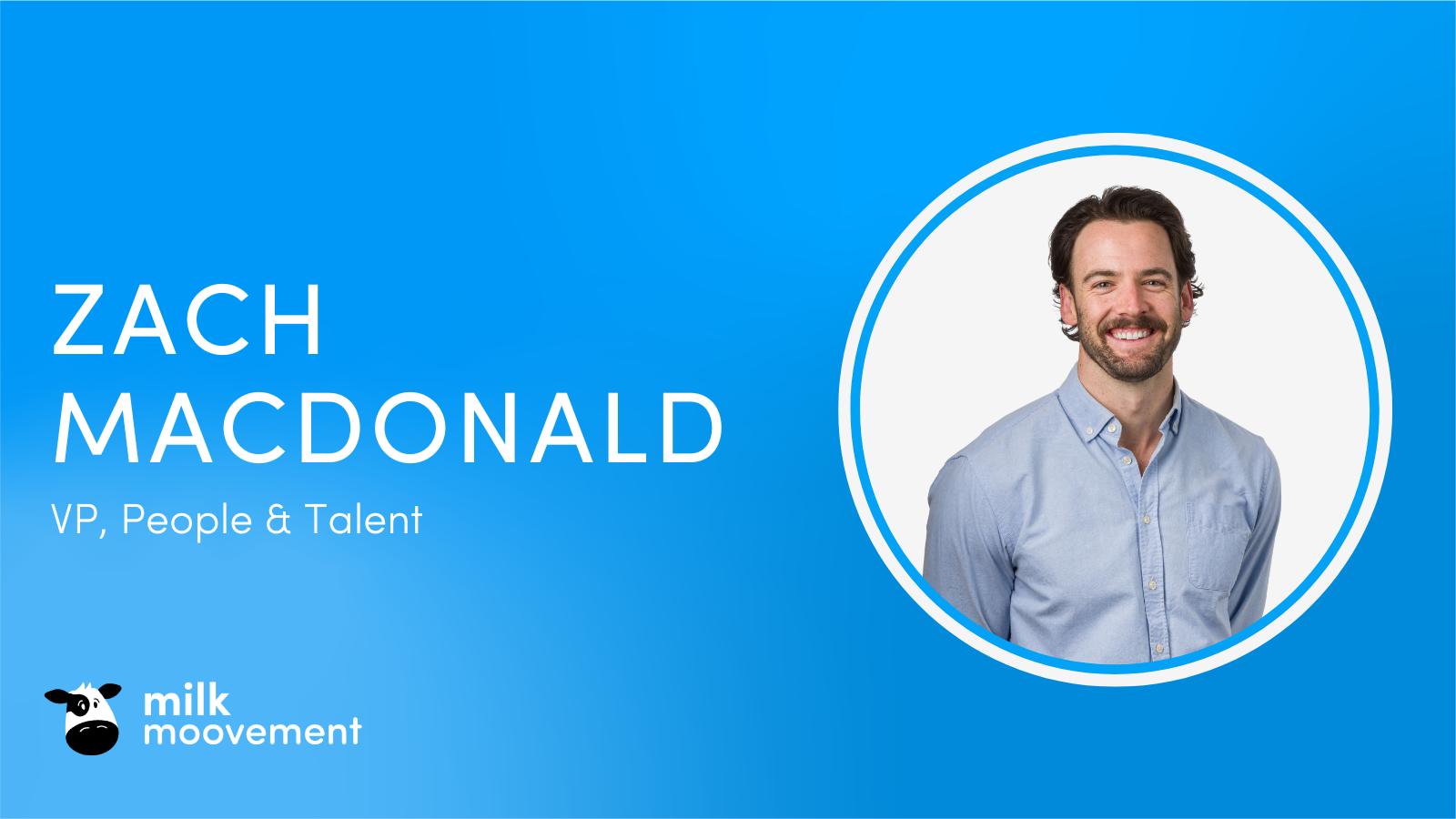 Tell us a bit about yourself.
I grew up on Prince Edward Island and lived there until I was 25. I moved to Halifax and have been here for the last eight years. I went to school in Prince Edward Island, and upon graduating did a bit of traveling. I spent some time in Australia, which was pretty cool.
I now reside in Halifax with my wife and my dog, who ironically looks like a cow.
I'm quite active, in the winter I usually play hockey weekly and in the summer I play as much golf as I can. I'm hopelessly addicted to golf. I'm also low-key a baker. My favorite thing to bake is chocolate chip cookies. I could easily sit down and eat a dozen of them in one sitting.
What attracted you to Milk Moovement?
Before I started at Milk Moovement, I was working a side gig as a group fitness trainer at a local gym in Halifax. Rob and his wife would come into the classes where I taught and we ended up getting to know each other. He told me about his startup and that they were looking to bring on an operations manager. He asked me a few questions about my interests and work history to see if the role was something I was interested in. I was open to exploring new opportunities. Now keep in mind, the company was only six people at the time.
I sat down with Rob and Jon and talked about my experience, the role, and the industry. It's probably the longest I deliberated over an offer, mainly because I had never worked for such an early-stage startup.
What attracted me to the company was Jon and Rob's vision for the product and the impacts it could bring to the dairy supply chain. It was their enthusiasm and their vision for Milk Moovement that I found very contagious and ultimately led to me accepting the offer.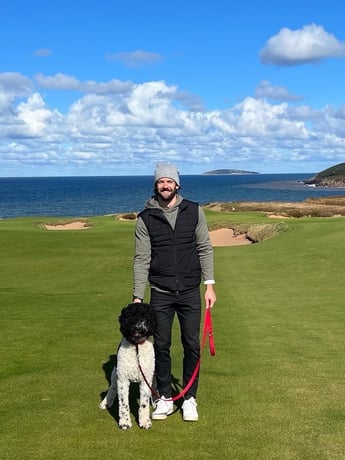 What exactly does the Vice President of People and Talent do at Milk Moovement?
I lead the talent and culture team where every day looks a little different. Our mission is to recruit, develop, and retain world-class talent. We build the systems to support talent attraction, professional development, and culture-generating initiatives across the organization.
A large part of my role is working with different leaders across the business to ensure that their teams feel supported with the right tools they need to thrive in their roles.
What are some of Milk Moovement's current strengths?
The culture that you see from the outside is very much what's contained within. It starts with the recruitment process and continues throughout the employee journey.
The other thing that we do really well is staying true to our values. I know that's probably cliché, but I'm also on the front lines of employee engagement. I see the responses that come in, and people resonate very strongly with our core values. It's natural for a company's values to evolve over time and I'm sure that will happen to us, but we've had these values for the last two and a half years and they've really held true. We have really strong leadership and people that are bought into the vision and mission of the company and that in itself really creates a compelling place to grow your career.
Does the company have any current challenges?
As the company grows and matures we need to ensure that our policies and procedures are able to scale. Balancing building new internal procedures without impacting and disrupting the amazing work we have going on can be challenging, but is mitigated by ensuring we're aware of who are stakeholders are and taking the proper steps to accommodate them in the process. Our team has been incredible about embracing continuous improvement and we have a healthy feedback culture that helps drive meaningful change internally.
Do you have any short-term or long-term goals for Milk Moovement?
In the short term, especially on the recruitment front, we are looking to improve the candidate experience. Making sure we practice what we preach when it comes to open and honest communication. It's important to us because we understand the effort it takes to apply for a new career and we greatly value the time it takes to put your heart and soul into the job search.
Long-term is ongoing indefinitely to continue crafting an amazing employee experience.
What's your favorite dairy product?
Yogurt. If you want me to get specific, it's the Icelandic yogurt skyr. That's my go-to.