A Conversation With Chris O'Malley, VP Engineering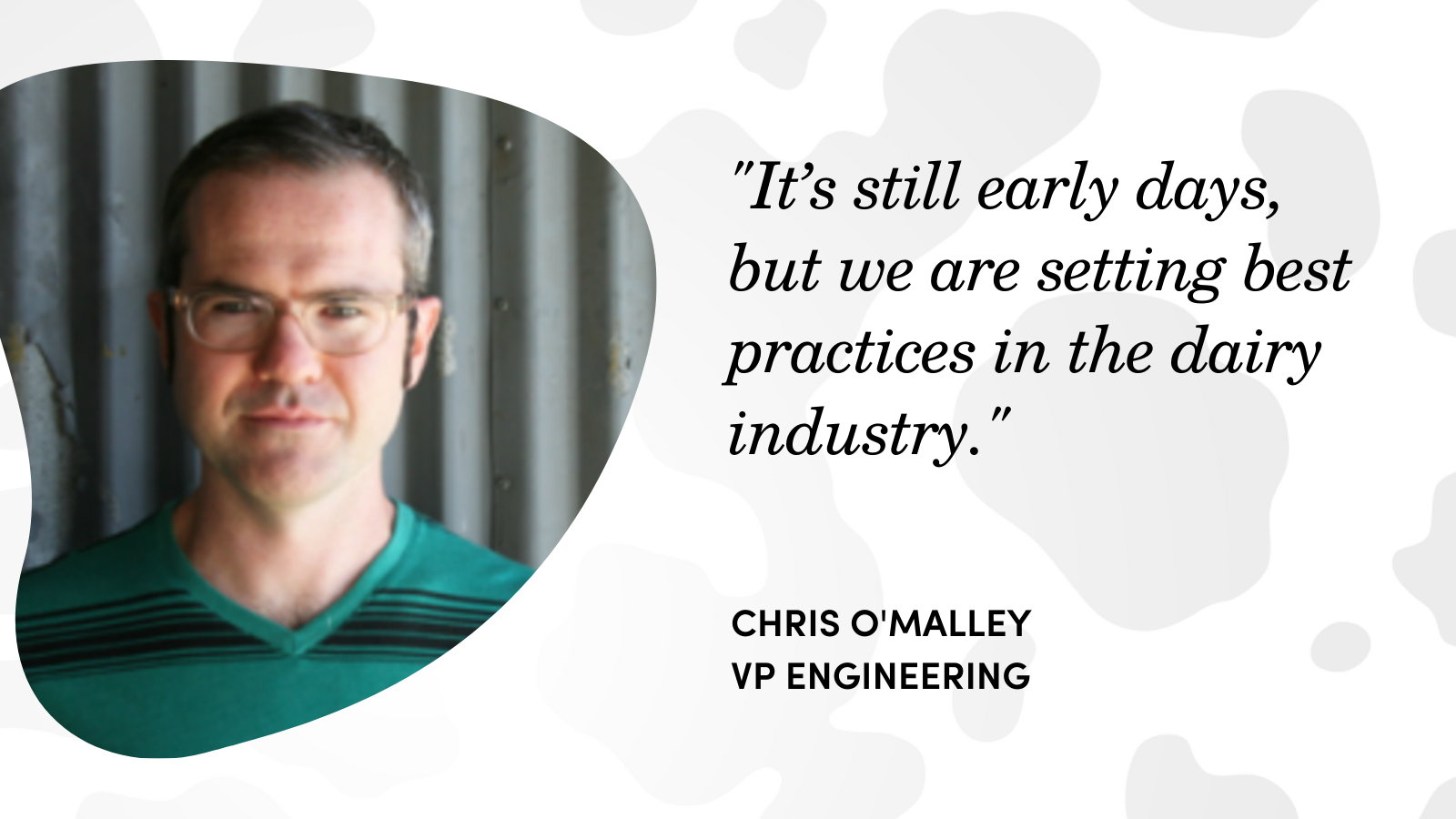 Hey Chris! Welcome to Milk Moovement and congratulations on your new role as VP of Engineering. First, let's start with you telling us a bit about yourself?
Hi, I'm Chris O'Malley and I am originally from Florida. I actually moved to California 20 years ago to pursue a career in professional audio. I have an electrical engineering degree, with an emphasis in recording audio thinking I would be professionally recording music. I grew up in bands, so music was a big passion. I also have a family, kids, and very prosperous avocado tree in Southern California, where I live now.
You have some good startup experience, what's been your background so far?
My career started with Apogee electronics, which is still around making professional audio equipment. Worked there for about 5 years, and from there I got exposed to building applications for the MAC. Then the iPhone came, and it was clear that would become a big deal. I wanted to work on software that would be in everybody's pocket. I worked with a company called Mophie and built a card reader that pre-dated Square. I dabbled in some work for other startups, but I wanted to go work for a legitimate application company… So I went and worked at Grindr. You could say they had a lot of veracious, invested users. I started as a mobile dev, but did back end, front end, and worked with AWS.
I started in leadership when I went to another startup in the mobile space. From there, I got the bug for leadership in startups. I eventually went into consulting and learned a lot more about leadership and really enjoyed that I could help set the course. I left with a team of about 70, and then I wanted to go back to startup. Now I'm here!
Well, we're excited to have you because that's quite the resume. What attracted you to Milk Moovement and the dairy industry?
I was talking to Rob and Jon and saw the passion really quickly. I had exposure to supply chain solutions and it was pretty interesting because there's a lack of visibility in some products. It was something that I wanted to get into because it's so integral in people's lives and I felt I owed it to myself to know more about it. I did a lot of IoT products at my last jobs, and I saw the opportunity to leverage that to solve some of the problems in the space. I am a dairy novice, but a quick learner. I believe in immersing yourself, learning about something, and getting better. I met the team and was impressed with what they were able to accomplish in a short amount of time and I liked that I could help with more than just engineering.
What do you see as the biggest obstacle that you see Milk Moovement faces?
We've grown quickly and have built really great solutions. We have to continue to scale and serve customers in a sustainable way. Put in better practices and we need specialized people. It's general growing pains, but I've seen this before and it's problems that I'm familiar with. The hardest part is figuring out what farmers need and translating that into software, and nailing that in the User Experience, which I think we've done so far. We have to keep doing it in a sufficient and sustainable way.
What's the biggest opportunity?
The opportunity to me is that milk is specialized, but it ties in a lot of technical aspects. It's an electrical challenge, software, and mechanical challenge. There are a lot of pain points and a lot of opportunities to make it all more efficient. While there have been so many areas that have been industrialized and gotten way better, it's apparent that there's more that could be done. It's still early days, but we are seeing best practices in the dairy industry.
Last of all, what's your favourite dairy product?
I've thought long and hard about this. The one I can't live without is cheese. It's probably smoked cheddar. Or like a blue cheese.
➡️ We're hiring! Check out our job openings here.