Year in review with co-founders Rob Forsythe and Jon King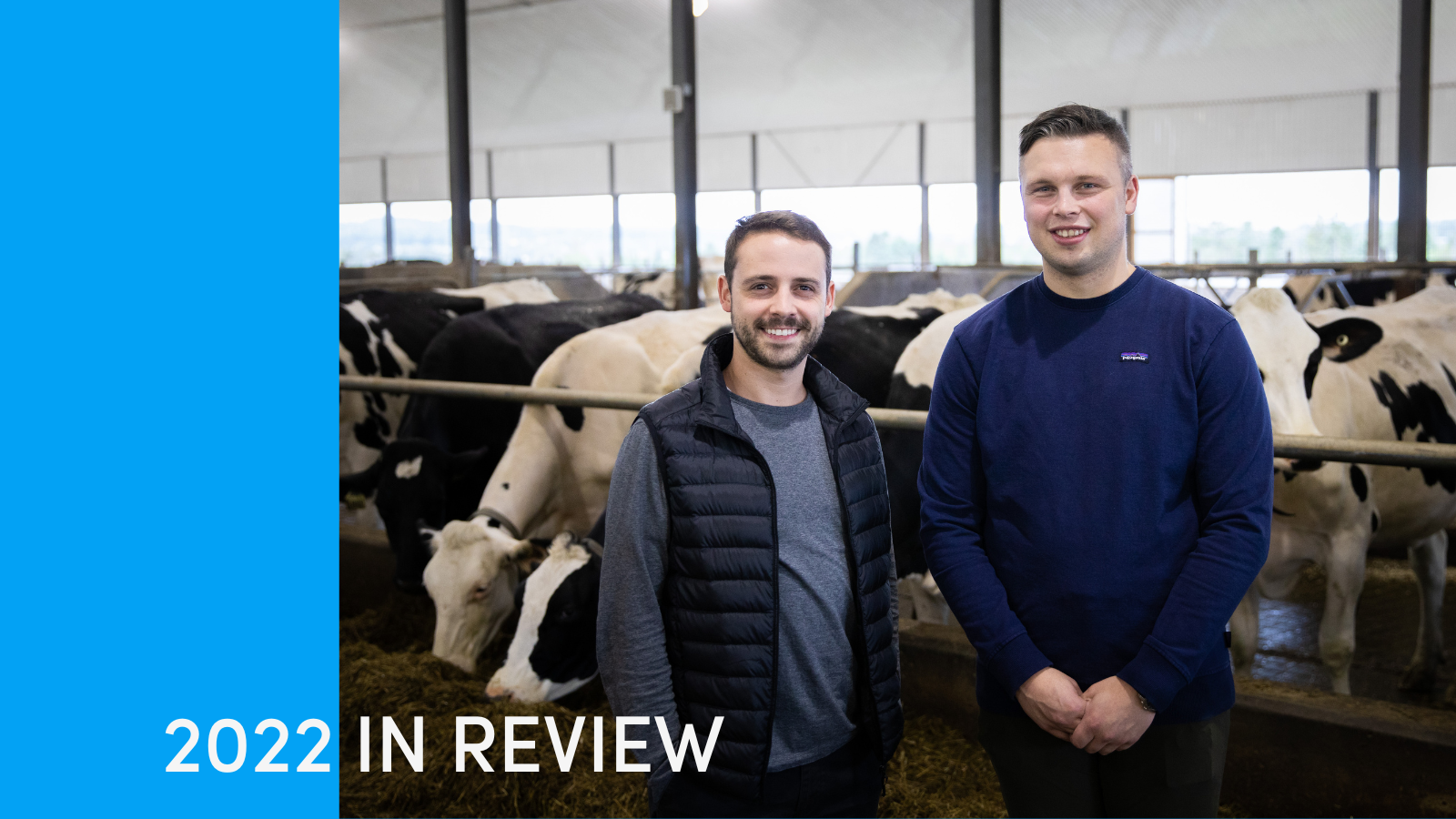 Milk Moovement has seen a lot of changes, challenges, and growth throughout 2022. Similarly, the dairy industry can be challenging, but we are aiming to make it easier. Co-founders Rob Forsythe, CEO, and Jon King, CPO, have a few reflections on this year and what the future holds for the company.
What's Milk Moovement's biggest accomplishment this year?
Jon: Our biggest accomplishment is managing more than 20 billion pounds of milk throughout the year.
Rob: I would say creating value and branching outside of cooperatives this year. One example of this is our partnership with Cargill. Both companies are committed to building a more sustainable and producer-driver future in dairy, so this upcoming partnership is exciting for us.
Did the company face any challenges this year?
Jon: Dairy is ever-evolving and it's different day-to-day. Learning how to adapt to all those changes, whether it be commodity pricing that changes frequently, producers dealing with challenges, driver shortages, or pretty much everything that happens across a large supply chain has impacted Milk Moovement in one way or another. Those have shown a lot of different opportunities and ones that we're really excited to address. It's a new challenge every time.
How has the business changed over the last year?
Rob: In the last year we have added a lot of world-class talent who raised the bar on how we do things, like enhancing our product team. We're a stronger company because we've brought on talent who hold specific skill sets. For example, our new LTS team's primary goal is to build the best logistics, transportation, and scheduling tools for the dairy industry. Of course, there are growing pains that come along with it, but growth is essential for the company and our clients.
Jon: Over the last year, we've grown a lot and learned a lot with our customers from all different levels of the supply chain, producers, coops, drivers, or processors. I think we've also been able to empathize with the core challenges that crop up at every single stage of the process.
We have begun to understand all of the different perspectives of the dairy supply chain. About four or five years ago, Milk Moovement was just one piece of the supply chain in Eastern Canada. We have grown to be able to work with everybody along that journey and around the world. It has helped us see a lot of different perspectives, ideas, and thought processes on how operations work, and where technology can provide the most value. That's somewhere that will continue to evolve and it's pretty exciting.
Is anything exciting coming to Milk Moovement in 2023?
Rob: We have even more cooperatives joining us with more farms, and with that, we are adding thousands of new users. We are going to have a heavier expansion into Australia and New Zealand in the upcoming year. It's exciting to see so many dairy cooperatives around the world believing in us and our solutions.
Jon: From the product side, Milk Moovement has spent an enormous amount of time digitizing the dairy supply chain. We are incredibly excited about all the various opportunities we found throughout that journey. Through 2023, we are going to be gearing up on a variety of ways to provide optimization around to supply chain. We will be bringing a lot of that value to make operations more efficient, create new value for our customers, and make the supply chain even stronger than before.
We would like to thank our clients, employees, and partners for making 2022 another banner year for Milk Moovement! We strive to be the best because we work for the best.