Cheesiest Moments at the 2022 Cheese Expo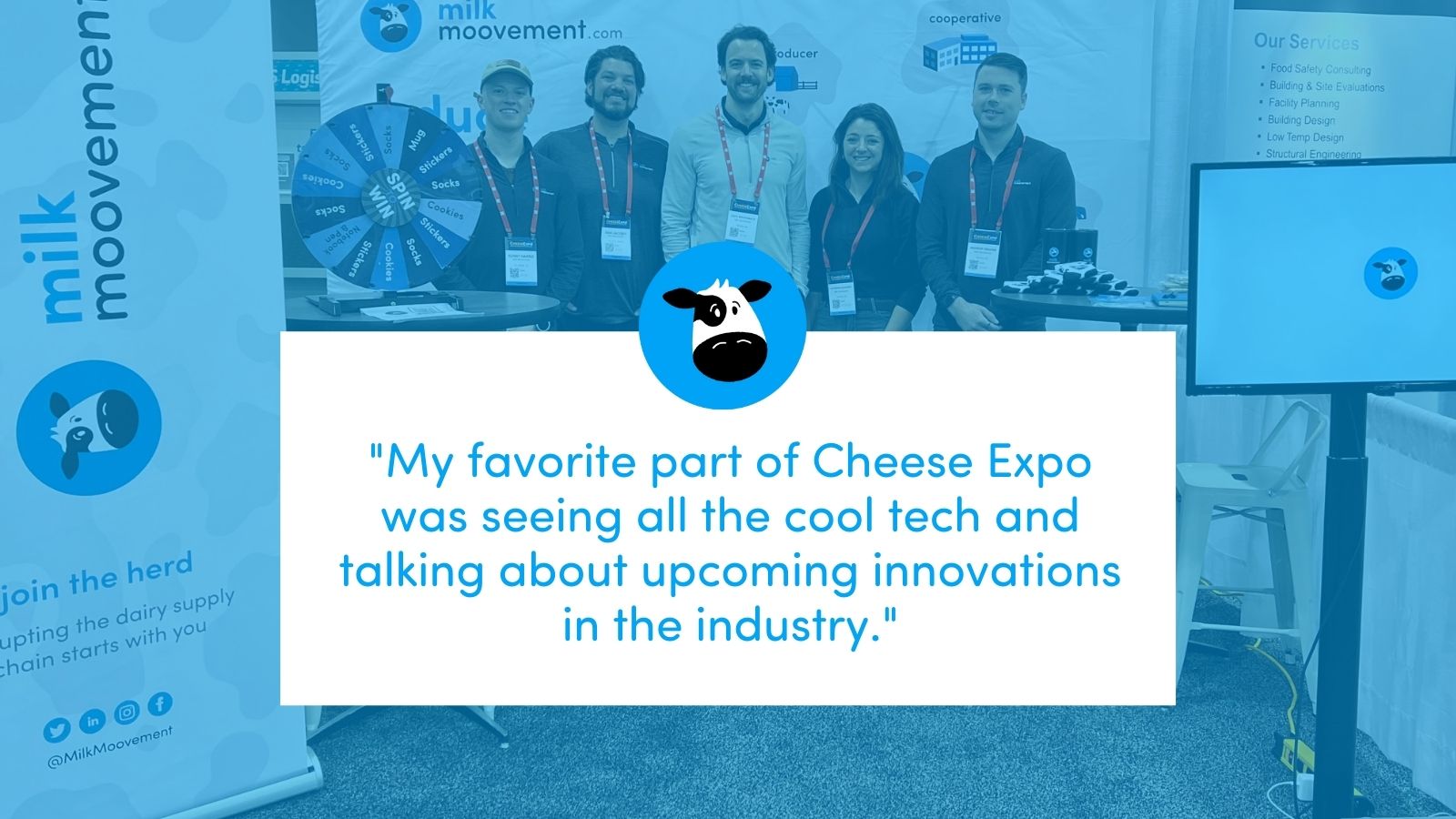 Last week Milk Moovement had an un-brie-lievable time attending the 2022 Cheese Expo in Milwaukee, Wisconsin hosted by Wisconsin Cheesemaker's Association and Center for Dairy Research. From meeting all sorts of folks in the industry, to the Cheese Auction, to allllll of the cheese 🧀🧀🧀 Check out our favourite parts of the expo from our team:
Dan Jacoby - Senior Sales Leader
"The Cheese Expo is an opportunity to meet all the people that you work with on a weekly basis all in one place. It truly is an event where dairy comes together! I would have to say the Cheese Auction is an amazing time. People can bid on amazing world class cheeses all while supporting a great cause. Milk Moovement unfortunately didn't win any cheese this time around, but maybe next year!"
Kenneth Harris - Business Development Manager
"Nothing beats getting in front of customers and learning about their current challenges, tech stack and future strategic goals. WCMA brings some of the largest processors together in one place with the worlds best cheese - what's not to like!"
Katherine Alexander - Marketing Lead
"Cheese Expo was my first major dairy event since joining the industry and it was super eye-opening! I would have to say my favorite part was seeing all the cool tech and talking about upcoming innovations in the industry. From seeing equipment use in cheese making on the expo floor, to lab equipment, and to chatting with other folks who are equally passionate about using data to realize inefficiencies and make better decisions, it was all exciting. My second favorite part was giving out our Milk Moovement cow print socks!"
Zach MacDonald - Director, Operations and Talent
"Outside of connecting with upcoming and recent graduates looking for fulfilling careers in dairy tech, my favorite parts about attending the 2022 WCMA Cheese Expo were the abundance of samples. I particularly liked the award-winning Klondike feta and Cabot Creamery sharp cheddar."
If you were at Cheese Expo and missed us, please reach out and book a demo!