Meet Sean Chinski, Milk Moovement's Chief Sales Officer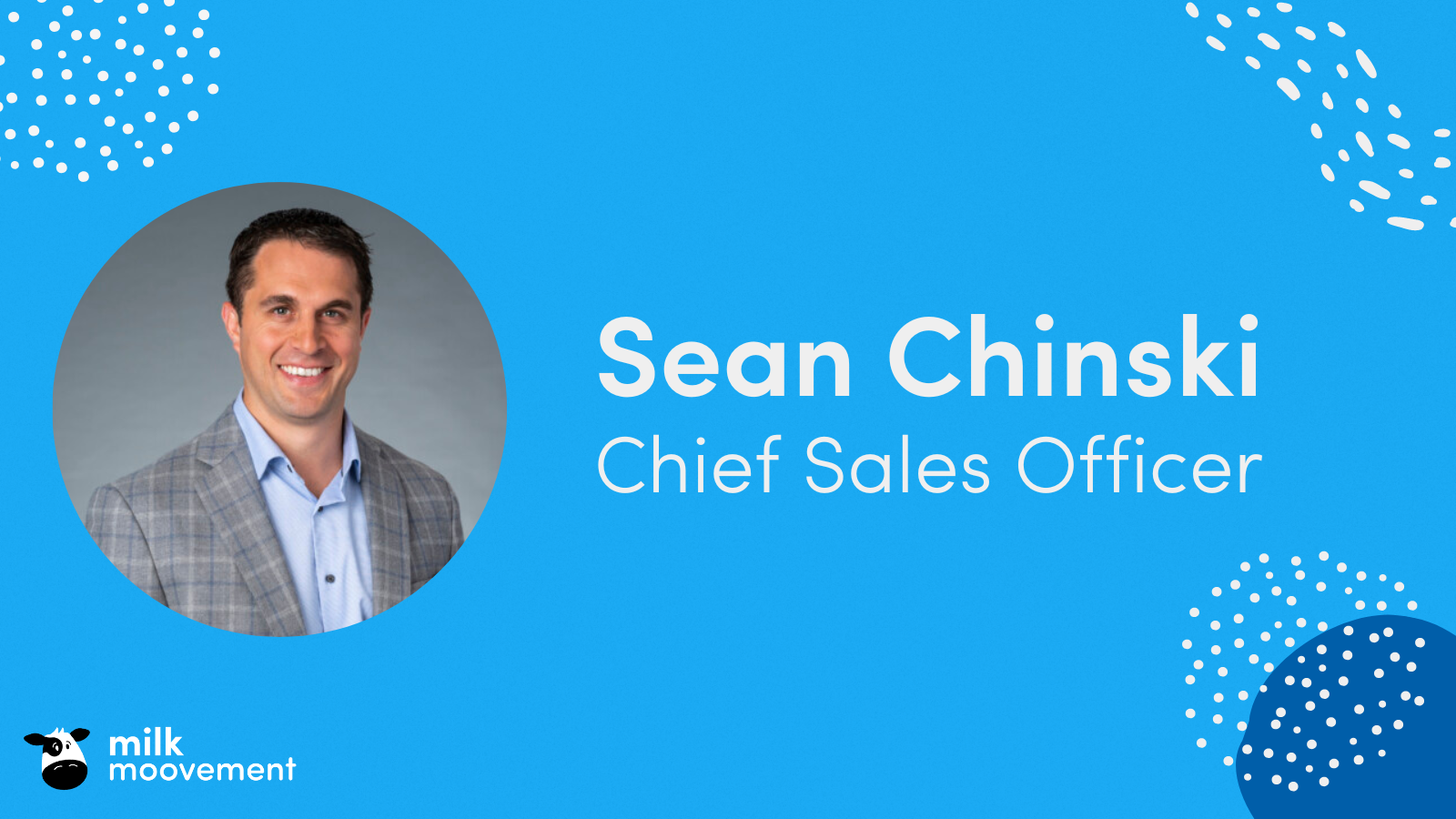 Tell us a bit about yourself.

I grew up in the Midwest where I lived in Indiana, Illinois, and Iowa, which are all big farm areas. I went to Loras College where I got my degree in marketing.
I've been married for 13 years. We have two girls, Josephine and Genevieve, who are 10 and 11, and we also have two dogs. We like to travel and spend a lot of time with the kids and their sports.

As a side hobby, I'm pretty into health and fitness and own a small gym. I was a collegiate athlete and wrestled in college. I started wrestling when I was four but quit when I was in my 20s. I actually trained some professional fighters in my mid-20s.

What attracted you to Milk Moovement/dairy industry?

I was introduced to Milk Moovement through my network. I've spent the better part of my career in the SaaS, MarTech, and startup space. When I connected to Milk Moovment through some folks in my network, I immediately liked Rob and Jon. I liked what I read online about the company, but I think we just clicked on a personal level.

With most of my career in emerging technology, Milk Moovement stood out as it's in a space that has not gotten a lot of disruption to date but is ripe for it. Knowing that we were an early player with a really good mission, trying to help farmers, attracted me. It's a big market with a lot of opportunity and then learning about the growth numbers and the market share of the customers that had come on board.

The role was in line with what I've done like selling to CIOs. I spent some time in SAP and Google Cloud world. Some of my previous experience involved some supply chain stuff. At the same time, I love challenges. The challenge of going and learning something new, like the dairy industry, also really piqued my interest and is the icing on the cake.

What does the role of the Chief Sales Officer do at Milk Moovement?

One of the things I love about Milk Moovement is that everybody cares about our customers. But at the end of the day, I think I'm the one ultimately responsible for them. Bringing on the right customers that we can help support, making sure they're successful in deploying our solutions and becoming a partner with them. Anything that is customer-centric is my responsibility, which means sales, marketing, business development, and partnerships. Another part of the role is exploring what partners make sense for us who can help us tackle the dairy industry together. I think little bits and pieces of that have started to come together, but it hasn't been a major focus.
It's all about making sure our customers are happy and successful with us for a long time, and that we have healthy, mutually beneficial partnerships.
Does Milk Moovement have any strengths?

We truly believe in our mission. Milk Moovement is there to help our customers advance the way that they do business and the way that they process milk. Whether that's caring about our mission, caring about our customers, and making sure that we're successful and happy. Customer support has an average response time of 24 seconds and a 95 satisfaction score, and that's pretty unheard of. It blew my mind when I saw those numbers.

Another strength we have is an interesting combination of dairy experts who understand our customers, the ecosystem, and the problems that exist with that. We also have people who understand the technology and how to build technology and somewhat merge those two, I think it's a big advantage for us.

Are there areas of opportunity for the company?

There are probably tons of areas for opportunity. The space is primed for disruption, so I think that's a big opportunity for us to go prove we can do that. Milk Moovement is turning a lot of heads due to the customers we're bringing on and the success we're having.

We're still building the product, so we've got to get the product more scalable, faster, and easier to use. To do that, it's super important for us to continue to get the right people. One of the biggest X factors I've seen in the successful companies that I've been a part of is having the right people in the right seats, all aligned and rowing in the same direction.

What is your favorite dairy product?
Greek yogurt. I eat it almost every day. Going back to my fitness piece, I need a lot of protein and I find that to be a healthy way to get it. Although the second would be cheese. We eat a ton of cheese in my house, even one of my dogs! It's so funny! Every time we grab a packet of cheese, he's right there trying to steal it from us. He's super obsessed with cheese.