Milk Moovement Attains SOC 2 report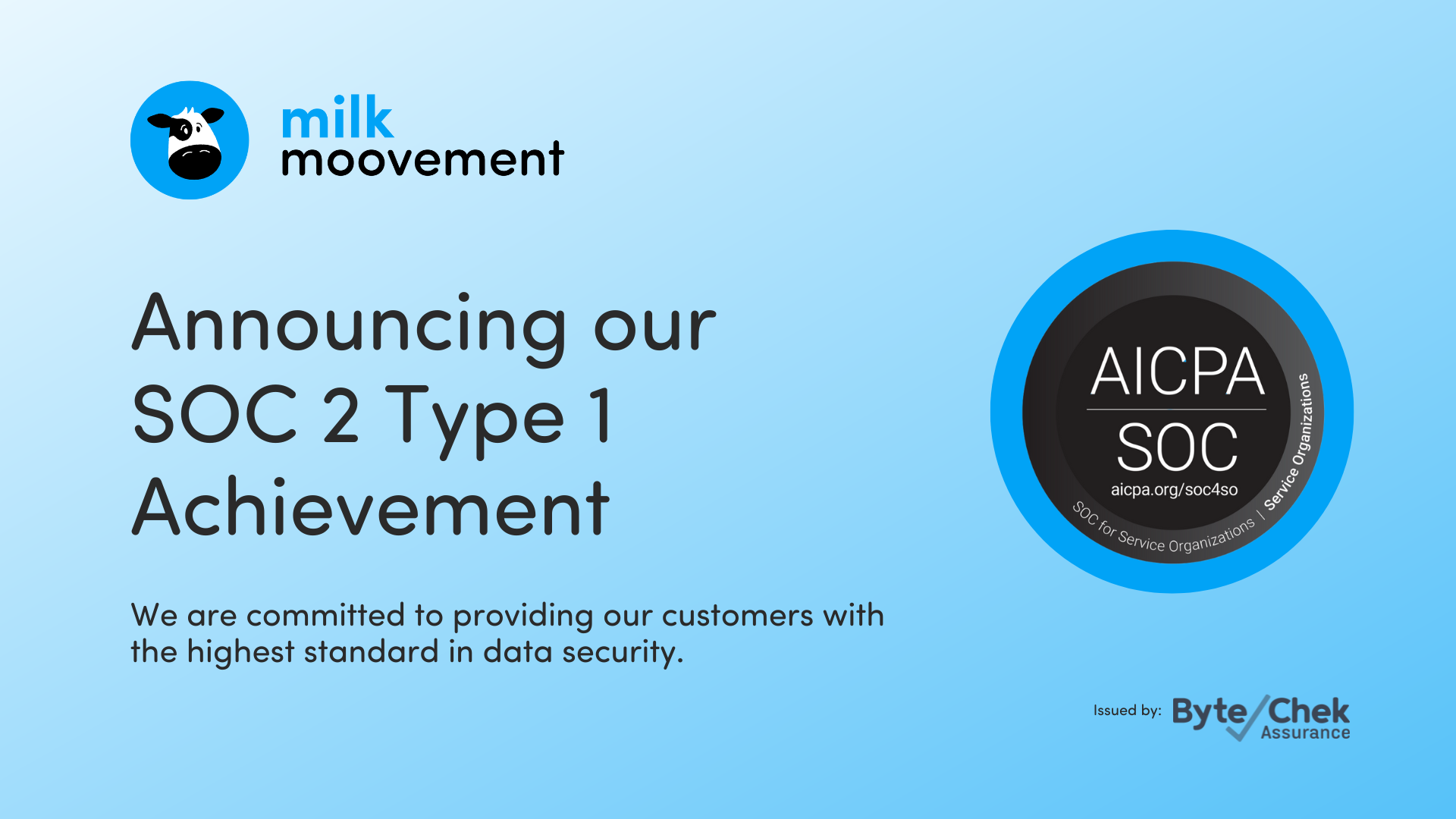 Milk Moovement, a leader in dairy supply chain software, attained its SOC 2 Type 1 report. This report is an achievement for both Milk Moovement and its users.
Milk Moovement is invested in ensuring that all of its user's data and information is safe with the highest possible standards. We underwent a third-party audit by ByteChek Assurance to ensure that Milk Moovement's security protocols and use of data meet strict data security requirements.
"Product security is extremely important to Milk Moovement. We're committed to maintaining our high standards and ensuring our customer's trust we're keeping their data safe," said Thomas Moore, Software Security Engineer at Milk Moovement. "The SOC2 Type 1 report demonstrates our high standard of security controls through this independent audit."
SOC 2 is a voluntary reporting framework for service organizations, developed by the American Institute of CPAs (AICPA), which specifies how organizations should manage customer data, based on the following Trust Services Criteria: security, availability, processing integrity, confidentiality, and privacy.
About Milk Moovement
Founded in 2018 by Jon King and Robert Forsythe, Milk Moovement is a rapidly expanding dairy SaaS company. Milk Moovement is currently in a period of tremendous growth with established clients across Canada, the US, and Australia. Its mission is to get the right milk to the right place at the right time using its proprietary software that tracks all milk shipments and delivers real-time quality and quantity information to all dairy stakeholders. Milk Moovement believes in data-driven food supply chains that can feed generations to come. For more information on Milk Moovement, please visit us at www.milkmoovement.com and follow us on LinkedIn and Twitter.