Ask The Expert: Robotic dairy farms of the future with Amanda Greaves and Jason French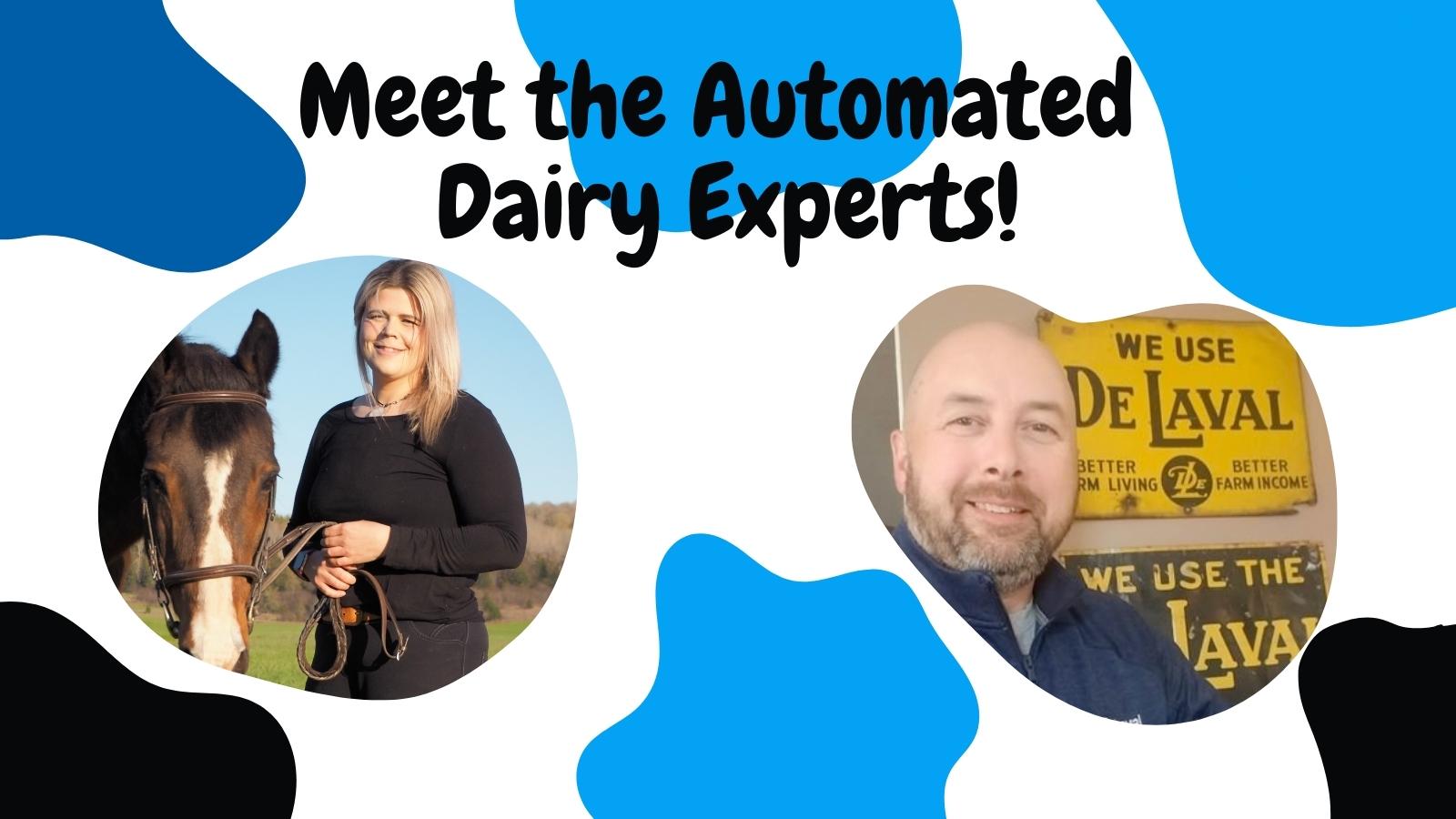 Dairy production has evolved over the last century, heck it's evolved a lot over the last five years! Automatic milking systems (AMS), also called voluntary milking systems (VMS), are monitored by herd management software. This system has many parts and can measure milk quality, cow health, and much more.
Some of the parts of an AMS are a milking machine, a teat position sensor, a robotic arm for automatic teat-cup application and removal, and a gate system for controlling cow traffic.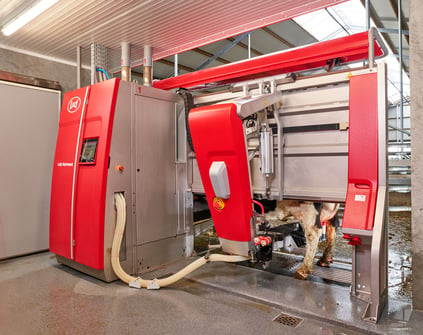 The cow wears an electronic ID tag, similar to a Fitbit, that holds all of the information and it communicates with the system. These systems measure over 150 data points per cow.
"When a cow goes in to get milk, it knows where her teats are, how much food she needs," said Amanda Greaves, aftermarket field specialist at Lely. "Every time that she gets milked, you'll know the butterfat, the protein, milk temperature, conductivity, somatic cell count. All of that is available."
Cow nutrition is also important for milk quality and health. When the cow's diet changes, you can see that change within the system almost right away. It also measures if the cow chews enough because that rumination is what makes them produce bicarb. It can also track their weight, when the cow is in heat, and much more.
If a farmer has notifications that something is wrong or unusual, they can easily delegate staff more efficiently and pinpoint the exact cow that requires attention.
"This data makes it easier to manage your people," said Greaves.
Since the system is voluntary, cows can get milked whenever they are ready. Unlike other milking systems, cows are milked according to staff scheduling. A 2018 study found that milk yield increased after farms adopted an automatic milking system.
"What a robot allows it to do is to milk a cow three and four times a day," said Jason French, VMS solution manager at DeLaval North America. "We've seen 10 to 15% more milk production when you go from twice a day to three times a day milking."
The systems are also consistent, which the cows love.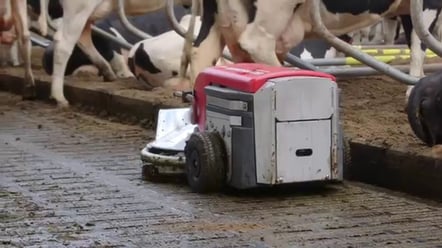 Milking systems aren't the only robots in the barn. There are also automatic feeders that will measure the feed, and feed pushers to put the food back into its place. When a cow eats food, it has to go somewhere. That's where automated robot vacuums and scrapers roam around the facility to keep it, kind of similar to your robot vacuum at home.
"The main thing that all dairy farmers do, is that they want to increase the cow comfort for the cow that will lead to a long productive life," said French.
Cow brushes are another barn feature that increases cow comfort. When cows are comfortable, they increase milk production.
Each milker can accommodate about 60 cows, but these systems aren't just for small farms. Greaves explained that these systems are ideal for all farms, and help with efficiency.
"Let's say you had 5,000 cows, think of the amount of labor it would take to actually milk those cows. Then you have a herd manager for every six robots. Super efficient from a labor perspective."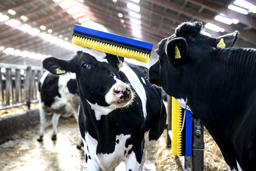 Although this technology has an upfront cost, it can save money in the long run. It can save on labor and animal health costs, all while increasing milk production and profits. According to French, automation can also help with labor shortages and make the farming business more appealing, which is a problem on many farms. Technology on the farm can make the business more appealing to the next generation.
"If you saw how hard your parents worked, never took a holiday, working from 5 a.m. until 10 p.m., they don't want to do that," said French. "Now that there's automation the lifestyle has changed, and the kind of labor is different. That's actually kept more people in the dairy industry."
The AMS software is always getting upgrades to help provide more data and increase efficiency. There is also new tech in other areas of farming like automated harvesters. Greaves says that dairy farms are increasingly adopting new technologies.
"This is definitely the future. We see a growth curve every year and the adoption rate of robotics tells us that it does work. It's working for not only the people but the cows too."
About the Experts
| | |
| --- | --- |
| Amanda Greaves | Jason French |
| Graves graduated from Dalhousie University with a BSc in Animal Science. While working as a dairy nutritionist, she developed a keen interest in robotic dairies. A Farm Management Support (FMS) position working only with robotics opened in Atlantic Canada. This past March, a position then opened up within Lely that would allow me to work with more farms across North America. | French grew up on a dairy farm in Peterborough County, giving him experience and drive behind a career in the industry. French is the VMS solutions manager for the North American division at DeLaval where he has developed a voluntary milking system (VMS). |