A Life in Agriculture: Insights From Marc Schober of Bremer Bank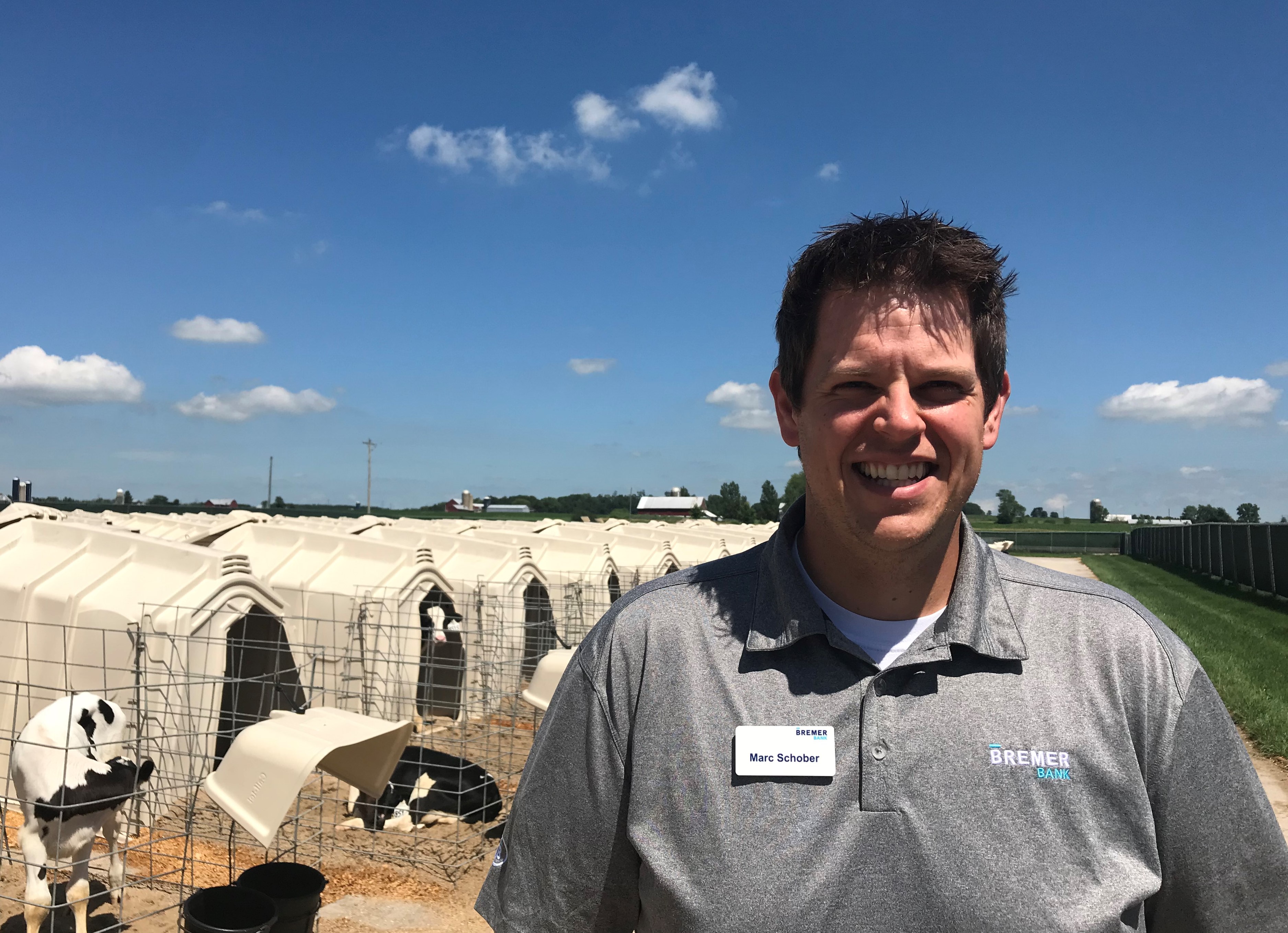 This week we interviewed Marc Schober of Bremer Bank. Marc is the Director of Specialized Agriculture Solutions responsible for identifying opportunities, services, and solutions to serve agriculture customers in new and better ways.
We talked to Marc about his career, the Coronavirus Food Assistance Program, how he is helping clients navigate Covid-19, and global factors influencing agriculture.
So, let's get moo-ving!
David: Tell us about growing up on a farm in Wisconsin and how it prepared you for a career in finance?
Marc: I grew up on a small 80-acre farm in Wisconsin. I think growing up in that setting was an advantage for me. I grew up surrounded by corn, soybeans, alfalfa, and pumpkins. Our family farmed 3 to 4 acres of pumpkins, which is probably the most strenuous crop to farm. It was both hard work and fun work.
What I enjoyed the most about farming was the machinery aspect. I would sit and watch the machines at work and wave at the farmers after every pass. I'd sit out there for hours. Then, afterward, my dad and I would look for arrowheads in the farm fields. I also went to visit my neighbour a lot to look through his barns, size up his machines, and ask tons of questions. I think that these experiences prepared me to have a basic understanding of what American agriculture is. What I didn't know at the time was that 8-year old Marc was interested in the assets required to carry out a farm operation.
Growing up on a farm also gave me better rapport with farmers throughout my career. I love talking to farmers and anyone in agriculture. I kick off every conversation with the weather. It might be small talk to some. However, it is paramount in agriculture. I also learned growing up that word travels fast in a small town. I carried this into my career because you absolutely cannot burn any bridges. You need to treat people with respect and to try and help them because, in small-town America, people help each other out. These experiences are not considered, for lack of a better word, traditional, but they set me up for success in my career.
David: You seem to view the relationship with farmers as a partnership rather than a transaction. How do you build such strong partnerships with your clients?
Marc: Bremer Bank is over 75 years old. We've grown from that small-town bank to one that can offer the products and services of the larger-scale banks. For example, we have services in-house right from crop insurance to life insurance or succession planning. These are things that we can offer that most smaller lenders cannot. We try to leverage having those partners in-house to create this 360-degree approach that is client-focused. But, we still keep a small-town feeling throughout the bank. We have supported the agriculture industry for decades with our vision to cultivate thriving communities. We spend a lot of time on relationship management so that our clients know they are at the center of our business.
David: What do your clients need to know about the Coronavirus Food Assistance Program (CFAP)?
Marc: First and foremost, everyone in agriculture should sign up for this program. I have to tip my hat to the U.S. Department of Agriculture for navigating this large-scale challenge. The CFAP2, in particular, was a lot more straightforward. It focused on direct payments based on volumes of commodities on-hand or produced throughout the months of the pandemic and assigned a rate pay. It is easy to calculate.
On the dairy side, we did not see an increase in payment limitations which is an issue for some dairy producers, especially the large producers who capped out on the first CFAP and are unable to participate in CFAP2, but that was one of the only criticisms we've heard.
From a lending side, on average, the American agriculture producer is better positioned financially because of these programs. They're paying out very quickly. I think some of these producers are using it to pay down debt and putting CapEx back into their operations. Additionally, we have a bullish commodities market right now resulting from some cyclical issues around the globe. I expect to see farm incomes on the rise in 2021 due to CFAP and high commodity prices.
Finally, farmers should look at state programs in addition to the federal program. For example, Wisconsin's state Covid-19 relief program is not on the same scale as CFAP. However, it is still substantial and targets industries within that state.
David: How has Bremer Bank supported its clients throughout Covid-19?
Marc: The paycheck protection program (PPP) was one really impactful way Bremer Bank helped our clients. We are one of the largest volume lenders in the state of Minnesota for PPP and by dollar amount. Knowing the potential impact that program could have on our local communities, our President and CEO, Jeanne Crain, made working that program a priority for Bremer Bank, and she did a great job navigating a challenging environment.
The other thing is, Bremer Bank has an agriculture focus. Every industry was impacted differently by Covid-19. Since we have a top-to-bottom knowledge of agriculture, we were able to provide expert advice on cash flow issues that cropped up due to Covid-19.
David: What are some of the current global factors that American farmers should have on their radar?
Marc: The factors change often. There is a lot that goes into macro and micro factors influencing agriculture. Being aware of the macro ones can help dramatically. The largest factor is, of course, the export market. In the long-term, American producers need to be aware of other agriculture powerhouses such as Brazil, Argentina, Ukraine, and Australia. I don't believe that we felt the same threat in the export market ten years ago as we do today. As well, the emerging middle class around the world makes it impossible for America to meet the entire global demand. We have to accept that there are going to be other powerhouses. We have to be aware that some of these other countries can do a fine job of meeting this demand too. Yes, we're dealing with less land for global production. However, we also have increased yields and better logistics. Commodities can fly around the world much better in 2020 than they could in 2000.
From a bank standpoint, we support on-farm decisions to better profitability. That's where some of my work comes in on the innovation front. We sponsor startup accelerators and other innovation in agriculture technology specifically to work on getting new solutions to our farm customers that will increase profitability or decrease bank risk. It's plain and simple. You can try to maximize yield on livestock or crop production. You can try to sell at the price you think is going to be advantageous for you over the next 24 months. Or, conversely, you can flip into a margin-based farm operation where you limit your costs even if that means decreasing your yield. High yields are fantastic, but higher net incomes are better. That's where farmers should focus.